SeaVee's flagship 450Z Sport Fishing Boat is making a splash—in a good way.   Power and MotorYacht magazine calls the 450Z SeaVee's most ambitious project to date. The 45-foot center console builds upon the company's long history of building high-performance stepped hulls.  The large console is resin infused all in one piece and includes an integrated custom molded safety glass windshield system. Click to learn more about the 450z. 450z Model Info | SeaVee Boats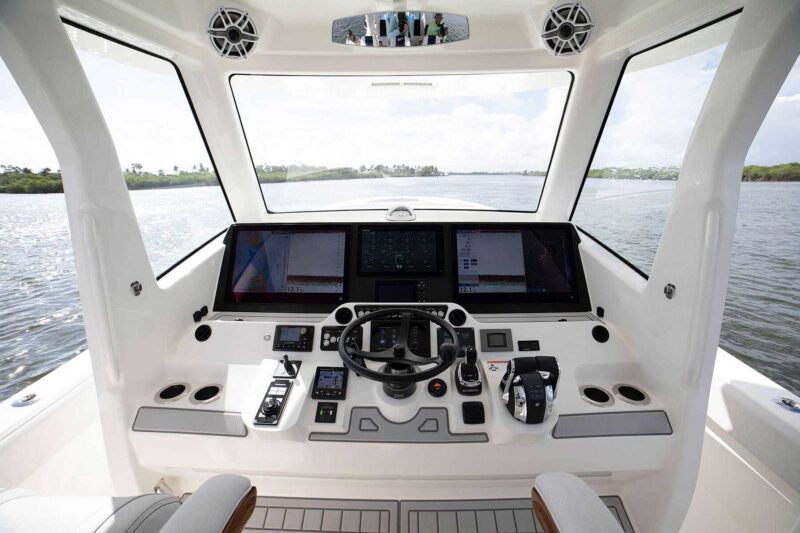 ProCurve Glass Design
ProCurve Glass supplied high-performance marine glass for the windshield and side glass panels. High-Performance Marine Glass (HPML-CG) is laminated glass comprised of two plies of chemically strengthened glass. This product provides 2-3 times the strength of tempered, tempered/laminated or annealed/laminated glass. HPML-CG is a durable, light weight, and aesthetically pleasing, and has been widely specified by naval architects, boat builders, and captains worldwide.  In addition to these benefits, Rob Kaidy, Vice-President of Engineering, noted that the glass provides exceptional visibility.
Why Choose ProCurve Glass Design for Marine Glass Projects?
At ProCurve Glass Design, we have been providing the marine industry with high-quality chemically strengthened glass for yachts and boats. The windshields of these large boats can experience damages and wear and tear over the years, which means replacing and repairing the glass with only the best is top priority.
If you're looking for new marine glass for your yacht or boat, please contact ProCurve Glass Design at 215-441-9101 today or visit us online for more information!