When designing and customizing your yacht, there are two very important elements to keep in mind: functionality and elegance.
Every aspect of your vessel is built around these two things. From the luxury décor and amenities to the power and build of your hull, boat owners must keep up with the industry trends and standards that are constantly pushing forward towards the next marine innovation.
However, you don't need to do an entire overhaul of your hull. Instead, look to the element of your yacht that seamlessly adds both functionality and elegance: marine glass.
Marine Glass Design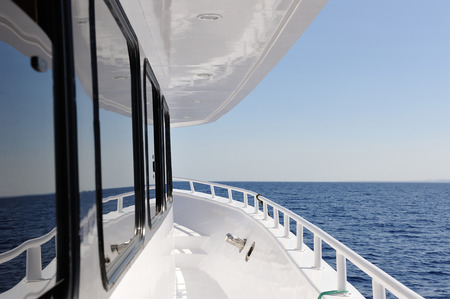 It all starts with the quality of the glass and the team you choose to work with.
At ProCurve, we work with you to create a custom-fitted, bent glass design for your yacht or sailboat. Tailored to every curve of your hull, your marine glass flow seamlessly into the structure and is bound to become an architectural glass feature in itself.
Customizing Your Marine Glass
You've stocked her with your favorite beverages, decked her out in your favorite décor, and now you're ready to customize your hull with some of the top, state-of-the-art marine glass you can find.
From ferries to government ships, we've designed for them all, tailoring our unique bent glass for every vessel. The glass is a continuation of the body of your boat and there are specifications that must be met in order to produce a sleek look.
Excellent Optical Quality
Although our marine glass is several layers thick, the clarity is impeccable; it's as if you're looking out from the deck, but within the comfort of your yacht's cabin.
You'll have tons of natural light pouring in your windows and a perfect view of the crystal blue waters.
Use Materials with Integrity
When decorating your yacht, the goal should be to fill it with items of integrity; pieces that have a story, start a conversation, or pique the interests of your onboard guests.
Your hull should do the same. It is a piece of art work with every curve and color you see. This overall integrity is emphasized by marine glass, shedding light not only on the beautiful features of your yacht, but also acting as an art installation, providing breathtaking views of the open ocean as well as intricate details, textures, and colors within the glass itself.
Decreased UV Rays
Enjoy the sun without the harsh consequences of its rays: with laminated glass, your yacht will take in less UV radiation, helping to preserve your furniture, carpeting, and interior. UV blocking is standard on everything laminated.
You also have the option to choose tinted glass which will decrease overall light transmission.
Strengthened Structure
Your hull is built to last, so shouldn't your glass be as well?
You can choose to customize your marine glass with an interlayer. This interlayer works to keep the glasses pieces together if ever it cracked or shattered due to a force of impact.
Noise Reduction
When hosting guests or relaxing in your yacht's cabin, you won't want to be disturbed by exterior noise.
Enjoy your space without the clatter when you have, laminated glass surrounding you—letting in the beautiful views, but not the noise that comes with.
Are you ready to elevate your yacht? Add value and intrigue with a custom marine glass design from ProCurve.
Give us a call at 215-441-9101 today to speak to one of our experts!