Marine glass is essential to any customized yacht or sailboat out on the water. Fitted to your vessel's exact needs, marine glass acts as both a window and a shield.
And as a boat owner, you must ensure that your vessel will stand up to accidental impact and severe weather.
Enter: marine glass.
This laminated, marine glass is an advanced technology that our team at ProCurve offers to our boat owners because not only is it impact-resistant, it allows for storm resistance, as well.
What is Storm-Resistant Marine Glass
When a severe storm approaches, you want your sailboat or yacht to be able to stand up to Mother Nature, coming out on the other side looking as good as new.
When a hurricane or severe storm strikes, your boat is extremely vulnerable to breakage and water damage due to the pressure and potential impact of the elements.
With laminated marine glass, your boat will be able to handle such inclement weather and more.
How Does it Work?
The multiple layers of marine glass are bonded with a strengthening interlayer that prevents moisture and water vapor from seeping into the cabin. When hit with a force of impact, this tear-resistant interlayer stays intact, keeping the glass in place even though it may be broken.
The layers of glass that are completely customized and fitted to your yacht or sailboat act as a safety barrier when winds are rolling in full force.
Storm-Deadlights vs. Storm-Resistant Glass
There are a few avenues you can take in order to protect your marine vessel from the effects of a storm, the main options being: deadlights and storm-resistant glass.
Utilizing deadlights allows you to bring protective paneling onboard to physically cover your glass windows.
However, these items tend to take up space in your cabin, can be daunting for you and your crew to deal with, and limit the visibility when installed.
We can provide windows that have been tested and approved by the major classification societies to allow for the elimination of the requirement to install storm deadlights.
Seems to us that the days of lugging deadlights onboard your yacht or sailboat are long gone.
Heated Marine Glass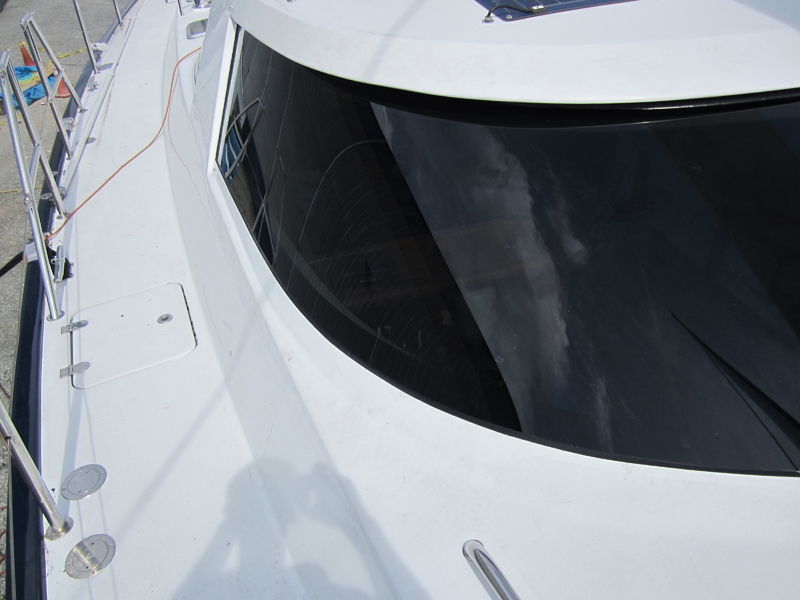 Even in the most extreme conditions, you will be able to enjoy your yacht with the help of our heated glass.
The multiple layers of glass securely bonded with a safety interlayer of electrically conductive heating material, allow for instant de-fogging and de-icing; not only can you still enjoy your yacht, but the de-icing and de-fogging processes will prevent any moisture from entering into the cabin.
Laminated Marine Glass Reduces Noise
The weather can turn from clam to roaring in an instant. With this innovative technology and the many layers of glass, you can ensure that you and your guests remain undisturbed in the cabin.
There may be a storm brewing outside, but that won't be for you to worry about.
At ProCurve, our team of experts understand the havoc a storm can wreak on your boat and that's why we're dedicated to building durable, long-lasting marine glass completely customized to your vessel.
Give us a call at 215-441-9101 today to start planning your custom bent glass design!