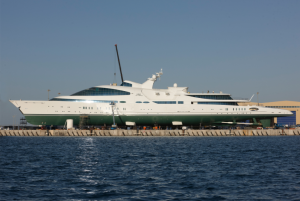 Back in the late 1970s, the Royal Netherlands Navy launched a frigate called HNLMS Piet Hein that played an integral role in the Cold War. The extremely heavy and durable ship was designed to patrol the North Sea for submarines while standing up to the rough waters and often treacherous weather conditions it faced.
But about a decade after it was first used, the Royal Netherlands Navy retired the HNLMS Piet Hein and other ships like it and sold all of them off to the Hellenic Navy in Greece as well as the United Arab Emirates Navy. The HNLMS Piet Hein was one of the ships that made its way to the UAE where it was used until 2008.
From there, the HNLMS Piet Hein very well could have ended up in a scrapyard somewhere. But after the boat was decommissioned, it was purchased by Hamdan bin Zayed bin Sultan Al Nahyan, a UAE royal and politician, who decided to do something interesting with it. He chose to repurpose the HNLMS Piet Hein and turn it into a superyacht that was eventually called Yaz.  The result is a 463-foot superyacht that is bigger, faster, and more unique than almost any other superyacht ever built.
There are so many incredible features that are tucked inside of the massive ship. For starters, Yaz reportedly has two MTU 10,500-horsepower diesel engines that can allow it to travel at approximately 26 knots, or 30 miles per hour, in the water. Yaz also has a pool, a spa, a helicopter pad, a handful of other entertainment areas, and a master suite that is completely self-contained and every bit as breathtaking as you might imagine.
But the most impressive part about Yaz might just be the 500 unique pieces of reinforced glass that make up the superstructure of the ship.
Creating the glass and finding a way to implement it into the design of the ship was, without a doubt, one of the biggest challenges that the ship's designers faced when converting the old warship into a floating palace. But they did it, and the superyacht is stunning because of it.
ProCurve took on the challenge of manufacturing the glass used on Yaz. It wasn't easy to do by any stretch of the imagination, but the outcome was well worth all the time that was invested into the project. We specialize in creating the very best marine bent and curved glass on the market and welcome you to use our expertise and experience in the space to your advantage. Call us at 215-441-9101 today to inquire about our marine glass products!