Rail glass has the responsibility of protecting millions of passengers every single year. Strength and durability is essential to our safety, whether it's inter-city rail cars, trolleys, and more. With that being said, glass designs are getting more and more creative for trains. Let's take a look.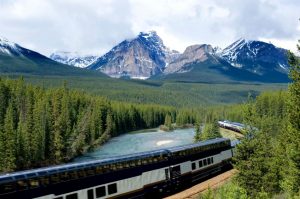 Rocky Mountaineer's GoldLeaf Service Rail Cars
This Rocky Mountaineer rail car is changing the way you explore the Canadian Rockies. With an entirely curved glass dome, you will get to experience the beautiful scenery of the great North. The route is a two-day journey from Vancouver to Lake Louise or Banff. The other route is another two-day trip between Vancouver and Jasper.
The oversized glass-dome windows give you the incredible view that you want when riding on a two-day train. There is a separate dining area for guests as well.
With custom-designed reclining seats and heated leather, the passengers have the relaxation and peace they need to enjoy the Canadian Rocky excursion. The seats also have the ability to spin 180 degrees.
Rail & Train Glass
ProCurve Glass Design makes FRA I and FRA II parts for trains. With specialized glass treating and bonding process, we make rail windows and windshields with exceptional strength and durability. This process also gives the glass additional functionality, making tinting easy and providing heat to prevent fogging and icing. Strengthened glass on trains prevents damages and harm from common impacts that a train is susceptible to. This glass is made with double reinforced layer of bonded glass. We make glass to suit any angle on the train, and we provide a perfect fit.
When you install glass created by ProCurve, you will have total confidence in it. You will also rest assured knowing it has been given the OK by the FRA since we work closely with them to ensure our glass is thick enough and up to code. Call us at 215-441-9101 today to inquire about purchasing train glass from us.