Automobiles and laminated glass windshields go hand in hand. The interlayer used to bond glass together to form the laminate was invented in the 1930's. It was a major safety advancement to keep drivers and passengers safe inside their vehicles. Even after impact, broken laminated glass windshields are likely to stay in place, holding glass shards in place until replacement can be made.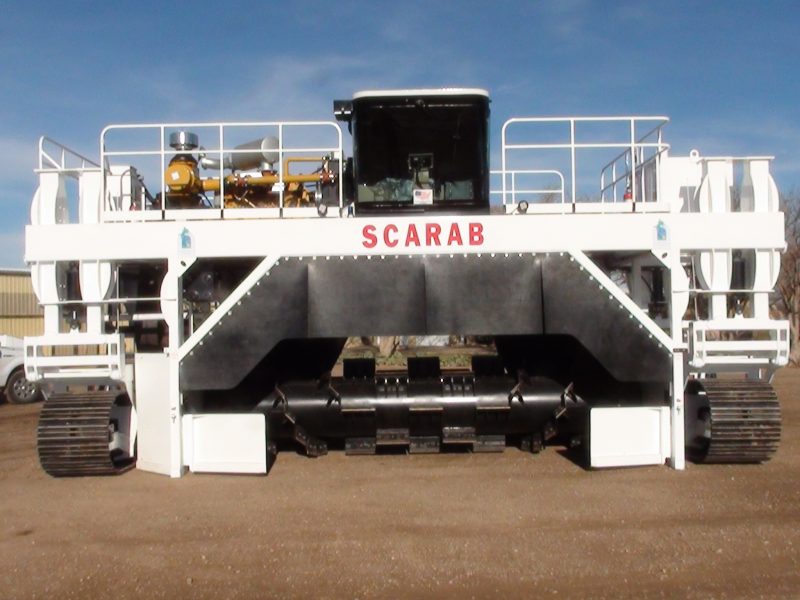 Heavy Equipment Challenge
While heavy equipment is often designed for off-the-road use, driver visibility and safety are important requirements of cab glazing.  That is why Scarab International, the world's leading manufacturer of self-propelled windrow (compost) turners, uses laminated glass for its cab windshields. 
According to owner Mark Urbanczyk, "Compost turners are used in some rough environments requiring sturdy glass for our cabs. Laminated glass is the best you can get due to its toughness. If the laminated glass is hit, it will not shatter, protecting the machine operator from injury."
Larger than standard windshields, the 1/4-inch green-tinted laminated Scarab windshield was 42 inches tall with a girth of 81 5/8 inches.  The wrap-around glass affords excellent operator visibility, and the green tinting helps to minimize glare.
Testing and Standards
Laminated glass used in heavy equipment is tested to ANSI Z26.1 Safety Glazing Materials for Glazing Motor Vehicles and Motor Vehicle Equipment Operating on Land Highways – Safety Standard
Enhance Your Glass Project with ProCurve Glass
ProCurve Glass can provide you with flat and curved windshields and side parts that meet ANSI Z26.1 requirements.  If you are looking for a source for transportation glazing, look no further than ProCurve Glass.    Call 215-441-9101 today to discuss your particular needs.